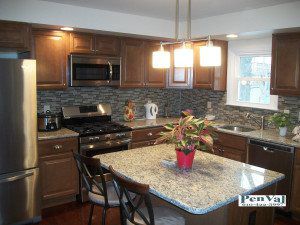 Get a New Kitchen with an Expert Kitchen Remodeler in Norristown, PA
Your kitchen is the heart of your home. It is more than a place to cook and eat, it's where you help with homework, work on projects, and where family, friends, and everyone else seems to end up.
A Remodeled Kitchen That Fits Your Life
Today's modern kitchens are designed to function for the way your family lives. They have islands or expansive countertops, for entertaining and food preparation, recessed and layered lighting for tasks and ambiance, drop zones, charging stations, open eating areas, lots of storage, and energy efficient appliances.
Renew your kitchen's function and look with a kitchen remodel. For 30 years, PenVal Construction has helped create dream kitchens on schedule and within budget.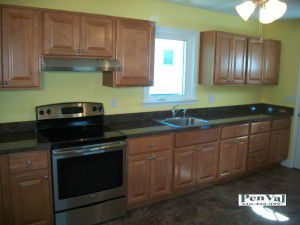 Select The Right Kitchen Remodeling Company
PenVal understands the many and unique challenges in designing and building a kitchen that functions well, flows with the rest of your home and looks great. Our 30 years of industry knowledge and design expertise allows us to transform your existing kitchen into a room you'll enjoy spending time in.
A kitchen remodel can be a complex process with quite a few moving parts that need to properly mesh together in order to create a beautiful finished "command center". The remodeling process for us at PenVal Construction is just as important to us as following through to the end result.
By trusting PenVal with your kitchen renovation, you'll get a seasoned, detail-oriented team that will take your ideas from it's conception all the way through to a successful completion.
FYI, Kitchen Remodeling Costs in 2023
Remodeling magazine's 2023 Cost vs. Value report (www.costvsvalue.com) , has some of the latest figures for kitchen remodeling costs in the Middle Atlantic Region.
The average cost of a mid-range major kitchen remodel in the Philadelphia area is $80,203 (down $5,909 from 2022), and the average for a mid-range minor kitchen remodel is $28,040 (down $2,402 from 2022).
Please note the report allows you to enter your zip-code to get a more targeted cost report. Click the above link to see the full report.
Use our 30 years of experience to maximize storage space, enhance your cooking and serving areas, modernize your appliances, and help you add your own style and flair to your kitchen.
Contact us to discuss your needs at 610-422-3997.